The Prior Unity Garden Story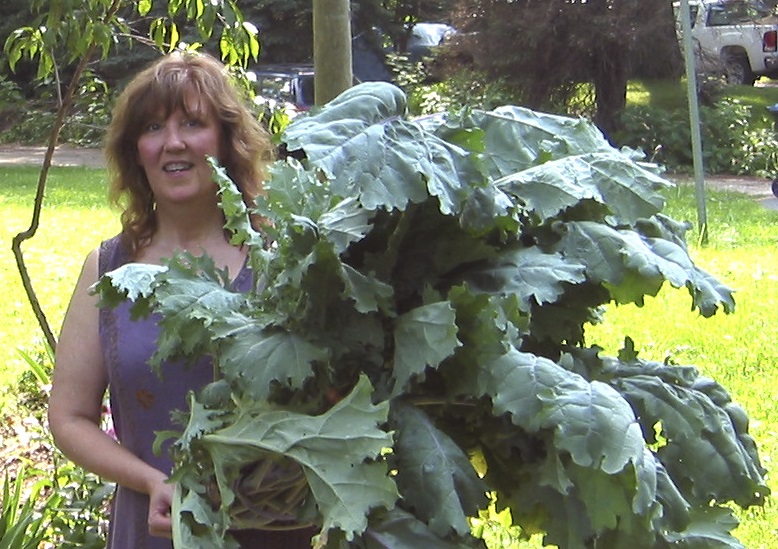 Photo is of Debby with the single largest kale she has grown to date!
People often ask us how I started this business and where the name comes from, so here is your answer ...
Debby has been gardening, as she is fond of saying, since she could crawl. In 2008, it was time for Debby to venture on a new business journey and in January of 2009 Prior Unity Garden was officially born.The business has gone through various changes, but Debby always kept one thing in mind - how can we help as many people as possible grow some organic food themselves.
2009 was a transition year, and all of a sudden there was a rush of momentum; quite unexpectedly, behind starting a gardening business.
About this time, Debby had read about "prior unity" as taught by World Friend Adi Da, and agreed the wisdom in the book, was the most sound, lucid, social wisdom they had ever read.Her partner Russell exclaimed, "Finally something that could actually work !" Reading one of the concepts in the book gave Debby one of those 'Ah Ha !' moments. "Prior Unity", being already the case, was the perfect description for how she has approached gardening her entire life. This was the impetus for the 'garden business' to truly happen. You can read excerpts from the "Prior Unity" book online.
It was obvious to Debby that the name would be "Prior Unity Garden" - with one "N", because there really is only one garden, spread all over the earth.
As customers and lifestyles changed over the last 10 years in business, Debby was continually asked if her classes were online, so to celebrate 10 years, she is doing this for you, keeping true to her passion to help folks grow organic.